Alright, now I know and have observered that newbies are a bit confused by the above abbreviations because they are rarely, if not never, mentioned on the home site. Unless you've had it explained to you by a regular here, or have read and understood The Compleat Distiller, you're pretty much lost.
They are all abbreviations used by us to differentiate between the different means of controlling reflux in a column still. I have already explained them
here
, but I know that a picture truly speaks a thousand words, and have since decided to make a few simple diagrams to aid in this.

Disclaimer: these are very crude, thrown together on ms. paint. Shaky wrists don't exactly help.

This is one of the simplest designs to understand and build. A single condenser condenses all of the vapor and returns part of the condensate back to the column via a valve that can handle small quantities (needle valve). The valve can expand and contract with temperature changes and small changes in the valve setting can have a large impact on the reflux ratio. This kind of offset design, the Bok inline, and the "valved reflux" all follow this general layout and design.
This is the second most common, but the least controllable designs out there. The reflux ratio is controlled entirely by controlling the amount of water running through the condensers. If you recirculate water, then the gradual increase in temperature will slowly reduce the reflux ratio, requiring constant attention. If your water supply is limited in your area, then this is NOT the design for you!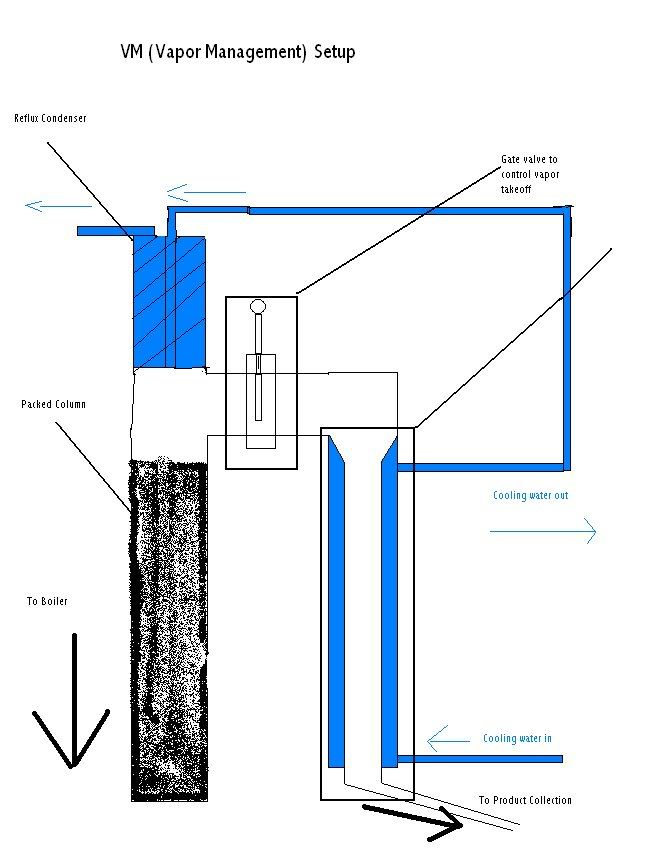 This is one of the least common designs out there, but one of the most easily controllable. The valve controlls the vapor and directs it between two separate condensers, and since the amount of ethanol in vapor form is many times greater in volume thean the liquid, coarse adjustments in valve opening make a rather fine adjustment. Changes in temperature have little effect on the reflux ratio for this same reason. They remain pretty constant, and with a little bit of trial and error, predictable valve settings can be acheived (example: 1/2 turn may change the ratio by 2%, etc.)
Hoped it'd be of some use.


Edit: okay, going to try to clean those drawings up a bit.
Mod Edit: Original Post:
http://homedistiller.org/forum/viewtopi ... =17&t=6151