I am using the liquid/vapor phase diagram for ethanol/water solution all the time. It gives me all the information I need about my still by just measuring the temp in the top of the column while running. I found this nice chart by googling: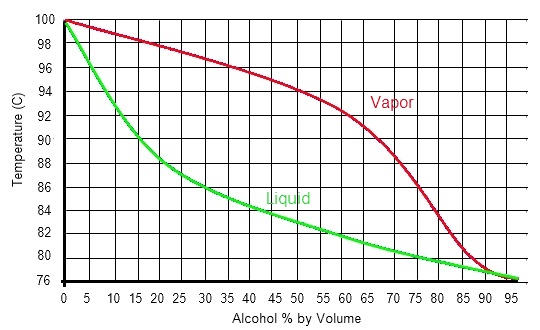 This chart is not perfectly accurate, but good enough for me. But I would like to make a prettier one for print, and it should be prominently placed in the wiki to in my opinion.
But I have not been able to find (or understand) a better description on how to generate this chart. Or a tool that could calculate the data. I'm guessing that this is a common enough thing that needs to be calculated in the process industry, so there are certainly tools out there that could do this. But where? And how accurate are they?
Do any of you guys have a mathematical formula to generate this chart? Or know of a tool online that could do it? Or a better search term so that I can find it myself?
When searching for "ethanol water phase diagram" I do not get the results I want except one instance of the same chart as above with F scale, and in horrible quality. When searching for "alcohol water temperature diagram" I get something similar. But it is all rather low quality images, no generated graphs.
The best resource I have found so far would be this:
http://stupidityshouldhurt.com/reference/org/calc.htm
But the author is unsure about the validity of all calcs.